Hello, Bookworms!
It's already the second month of the year and yet here I am just finished with my new year's bookish plans. Well, it's better late than never, right?
I am sharing with you here my 2019 bookish goals. In 2018, my goal was vague: finish 50 books. This year, I have set more specific goals. I chose 52 novels and 12 non-fiction books. That's one novel a week, and one non-fiction in a month. I also dedicated a specific genre for each month to make my reading experience more diverse and interesting. That's a minimum of 64 books for the whole year across 12 different genres. Yay!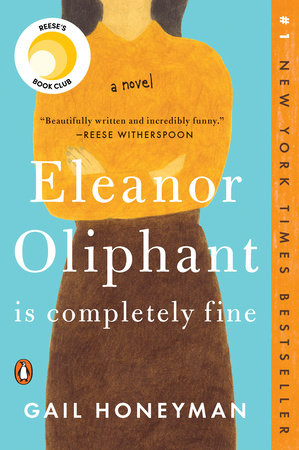 Title: Eleanor Oliphant is Completely Fine
Author: Gail Honeyman
Number of Pages:327
Main Characters: Eleanor Oliphant, Raymond Gibbons
setting: Scotland
Literary Awards: Costa Book Award for First Novel (2017), Audie Award for Fiction (2018), WHSmith's Book of the Year (2017)
Title: The Hours
Author: Michael Cunningham
Number of Pages: 230
Characters: Virginia Woolf,Clarissa Vaughan,Laura Brown
Number of Pages: 230
Literary Awards: Pulitzer Prize (1999), PEN/Faulkner Award for Fiction (1999), Ferro-Grumley Award for Gay Fiction (1999), National Book Critics Circle Award Nominee for Fiction (1998), Premio Grinzane Cavour for Narrativa Straniera (2000)
Title: The Curious Incident of the Dog in the Night Time
Author: Mark Haddon
Number of Pages: 320
Characters: Christopher John Francis Boone, Toby, Siobhan, Mr. Jeavons
Setting: England
Los Angeles Times Book Prize for Art Seidenbaum Award for First Fiction (2003), Exclusive Books Boeke Prize (2004), ALA Alex Award (2004), Zilveren Zoen (2004), Commonwealth Writers' Prize for Best First Book Overall (2004) Dolly Gray Children's Literature Award (2004)
Title: Homegoing
Author: Yaa Gyasi
Number of Pages: 320
Characters: Cobbe Otcher, Effia Otcher, Big Man Assare, Esi Assare, Quey Collins
Setting: Ghana
Literary Awards: L American Book Award (2017), Audie Award for Literary Fiction & Classics (2017), National Book Critics Circle Award for John Leonard Prize (2016), Alabama Author
Award for Fiction (2017)
Title: Shutter Island
Author: Dennis Lehane
Number of Pages: 369
Characters: Teddy Daniels, Chuck Aule, Dr. John Cawley, Dr. Jeremiah Naehring
Setting: Massachusetts, USA
Literary Award: Grand Prix des lectrices de Elle for roman policier (2004)
Title: Meshugah
Author: Isaac Bashevis Singer
Number of Pages: 232
Characters: Aaron Greidingeb,
Max Aberdam, Mirriam
Setting: New York, USA
Literary Award: Nobel Prize for Literature (1978)
Title: A Game of Thrones
Author: George R. R. Martin
Number of Pages: 848
Characters: Brandon Stark, Catelyn Stark, Tyrion Lannister,
Daenerys Targaryen, Eddard Stark
Setting: The Lands of Ice and Fire
Literary Award: Premio Ignotus for Novela extranjera (2003), Locus Award for Best Fantasy Novel (1997)
Title: The Golden Compass
Author: Philip Pullman
Number of Pages: 399
Characters: Lyra Belacqua, Pantalaimon,
Lord Asriel, Iorek Byrnison,Iofur Raknison, Marisa Coulter,Lee Scoresby
Setting: Oxford, England
Literary Award: Guardian Children's Fiction Prize (1996), Audie Award for Children's Titles (2000), Lincoln Award Nominee (2005), Carnegie Medal (1995)
Title: Annihilation
Author: Jeff VanderMeer
Number of Pages: 195
Characters: The Biologist, The Surveyor, The Psychologist, The Anthropologist
Setting: Area X
Series: #1 of Southern Reach Trilogy
Literary Awards: Nebula Award for Best Novel (2014), Shirley Jackson Award for Novel (2014)
Title: After Dark
Author: Haruki Murakami
Number of Pages: 191
Characters: Eri Asai, Kaoru, Mari Asai, Takahashi Tetsuya, Shirakawa
Setting: Tokyo, Japan
Title: Logan's Run
Author: William F. Nolan, George Clayton Johnson
Number of Pages: 149
Series: #1 of Logan
Characters: Logan, Jessica
Setting: Los Angeles, California, USA
Title: Nineteen Eighty-Four
Author: George Orwell
Number of Pages: 339
Characters:
Winston Smith, Big Brother, O'Brien, Emmanuel Goldstein, Tom Parsons
London, England
Literary Awards: Prometheus Hall of Fame Award (1984)
FICTION
1984 by George Orwell
A Game of Thrones by George R. R. Martin
A God in Ruins by Leon Uris
A Princess of Mars by Edgar Rice Burroughs
A Series of Unfortunate Events: The Bad Beginning by Lemony Snicket
The Golden Compass by Philip Pullman
After Dark by Haruki Murakami
Altered Carbon by Richard Morgan
Annihilation by Jeff VanderMeer
Brave New World by Aldous Huxley
Bridget Jones's Diary by Helen Fielding
Casino Royale by Ian Fleming
Diary by Chuck Palahniuk
Eaters of the Dead by Michael Crichton
Eleanor Oliphant is Completely Fine by Gail Honeyman
Frankenstein by Mary Shelley
Harry Potter and the Sorcerer's Stone by J. K. Rowling
Hearts in Atlantis by Stephen King
Home Going by Yaa Gyasi
In the Miso Soup by Ryū Murakami
It by Stephen King
L.A. confidential by James Ellroy
Life of Pi by Yann Martel
Logan's Run by William F. Nolan & George Clayton Johnson
Meshugah by Isaac Bashevis Singer
Night by Elie Wiesel
No Country for Old Men by Cormac McCarthy
Oranges are Not the Only Fruit by Jeanette Winterson
Private Life by Jane Smiley
Red Sparrow by Jason Matthews
Shutter Island by Dennis Lehane
Snow, Glass, Apples by Neil Gaiman
Speaker for the Dead (Ender's Game 2) by Orson Scott Card
The Curious Incident of the Dog in the Night Time by Mark Haddon
The Engineer Reconditioned by Neal Asher
The Game of Thrones by George R. R. Martin
The Handmaid's Tale by Margaret Atwood
The Hitchhiker's Guide to the Galaxy by Douglas Adams
The Hours by Michael Cunningham
The Joy Luck Club by Amy Tan
The King's Speech by Mark Logue & Peter Conradi
The Knife of Never Letting Go by Patrick Ness
The Lake by Banana Yoshimoto
The Lost Colony: Artemis Fowl 5 by Eoin Colfer
The Secret Diary of Adrian Mole, Aged 13 3/4 by Sue Townsend
The Secret Life of Bees by Sue Monk Kidd
The Shipping News by Annie Proulx
The Time Machine by H. G. Wells
The Virgin Suicides by Jeffrey Eugenides
T-Zero by Italo Calvino
We by Yevgeny Zamyatin
Youth by Isaac Asimov
NON-FICTION
Astrophysics for People in a Hurry by Neil deGrasse Tyson
Pale Blue Dot by Carl Sagan
The Art of War by Sun Tzu
Life by Keith Richards
Slash by Slash and Anthony Bozza
50 Mathematical Ideas You Really Need to Know by Tony Crilly
Bad Science by Ben Goldacre
99 Novels: The Best in English Since 1939 by Anthony Burgess
A Mind for Numbers by Barbara Oakley
Made in America by Bill Bryson
The Glass Castle: A Memoir by Jeannette Walls
Talent Is Overrated by Geoff Colvin
You've seen my goals for the year. What are yours?