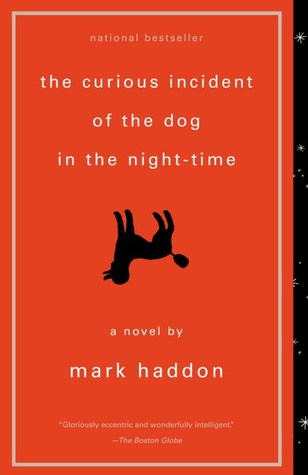 The Curious Incident of the Dog
in the Night-Time
Mark Haddon
ISBN 9781400032716
Contemporary Fiction, Coming-of-Age, Domestic Drama
226 pages
Literary Awards
Whitbread Award for Novel and Book of the Year (2003), Guardian Children's Fiction Prize (2003), McKitterick Prize (2004), Los Angeles Times Book Prize for Art Seidenbaum Award for First Fiction (2003), Exclusive Books Boeke Prize (2004), ALA Alex Award (2004), Zilveren Zoen (2004), Commonwealth Writers' Prize for Best First Book Overall (2004), Dolly Gray Children's Literature Award (2004)
Fifteen-year old Christopher Boone loves mathematics, physics, order and mysteries. While he is very good in math, he has very little understand of human emotions. He doesn't want to be touched and he doesn't understand metaphors or simile; he doesn't like the colors yellow and brown; he bases the quality of the day on colors of cars he sees on the the street: 5 red cars in a row for a Super Good day, 4 red cars in a row for a Good Day, 3 red cars in a row for Quite Good Day and 4 yellow cars in a row for a Black Day. During Black Days, he refuses to eat food and doesn't talk to anyone.
When he finds Mrs. Shears' dog killed in her backyard, he makes it his mission to find the killer. Using Sherlock Holmes as his inspiration he sets out to the neighborhood to solve the mystery. His adventure leads him to London and ultimately makes him come to terms with the turmoil that is his parents' marriage.
Mark Haddon made a remarkable narrative using the voice of a fifteen-year old autistic boy who perceives the world differently. The effect is a clearer understanding of the mind that is often misconstrued by society.
Here is an excerpt from the book that I find funny. While the joke might be funny or not to the readers, the hilarity comes not from the joke itself but the idea that Christopher believes that it is a good joke.
There  are  three  men  on  a  train.  One  of  them  is  an  economist  and  one  of  them  is  a  logician  and  one  of them is a mathematician. And they have just crossed the border into Scotland (I don't know why they are going to Scotland) and they see a brown cow standing in a field from the window of the train (and the cow is standing parallel to the train).

And the economist says, "Look, the cows in Scotland are brown."
And the logician says, "No. There are cows in Scotland of which one at least is brown."
And the mathematician says, "No. There is at least one cow in Scotland, of which one side appears to be brown."
And it is funny because economists are not real scientists, and because logicians think more clearly but mathematicians are best.
The Curious Incident of the Dog in the Night-Time is equally poignant, funny and inspiring. Albeit being hilarious most of the time, it has so much to say for a short novel. Young adult fiction fans should not miss this exceptional love story of a man and his son.
This is the debut novel of Mark Haddon. He is also an illustrator and worked with autistic individuals in his earlier career.